Rail industry joins Samaritans to raise awareness for World Suicide Prevention Day 2021
28/09/21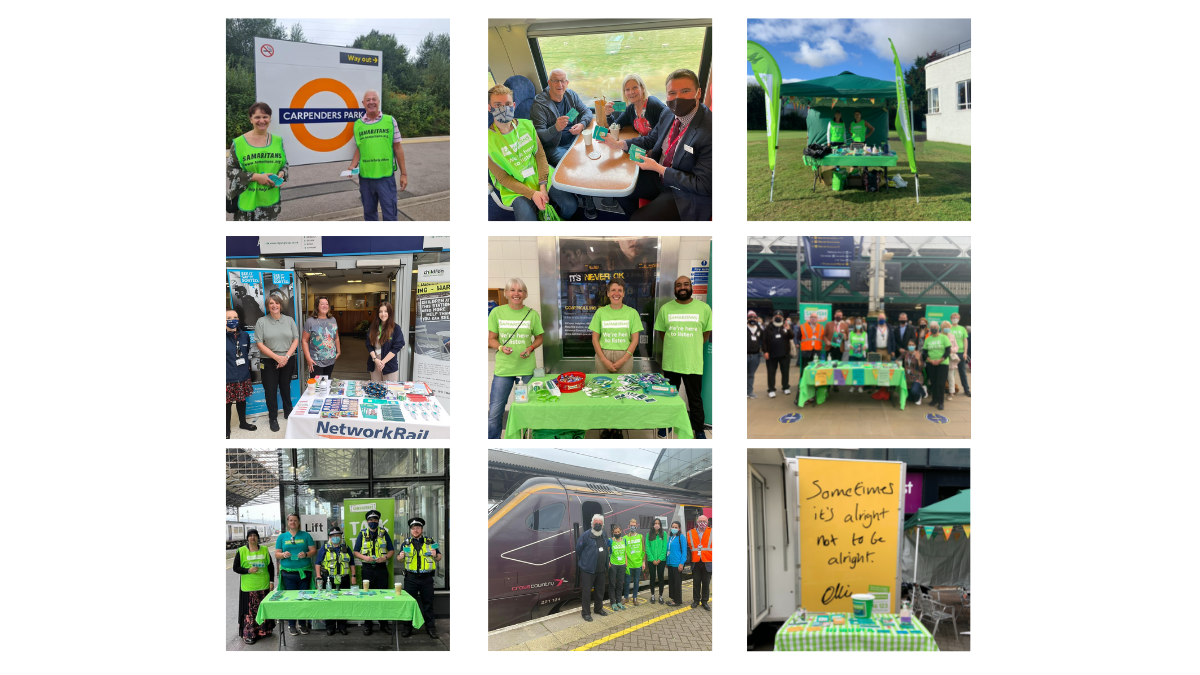 Every year on 10th September, organisations and communities around the world come together to raise awareness of how we can create a world where fewer people die by suicide. This World Suicide Prevention Day, the theme was creating hope through action. As the rail industry's suicide prevention partner, Samaritans rail team and volunteers supported a number of different station and community events across the UK, helping to raise awareness of support services available, reminding the public that what they're facing, Samaritans are there to listen 24/7.
With the long-term effects of the pandemic likely to be felt for several years, sharing ways of remaining hopeful could support anyone struggling to cope and be an important reminder that suicidal thoughts are not permanent. Spending time in nature, exercising, baking, listening to music, and drawing are just a handful of examples that can help boost people's mood, among plenty of other actions.
Local activities for Samaritans Rail team started with a community roadshow in Stirling City Centre on 4th September, with partners attending from Falkirk Samaritans, Change Grow Live, Street Pastors, Railway Mission, BTP and Police Scotland. Across the week leading up to World Suicide Prevention Day, Samaritans delivered a series of Conversation Cafes on train journeys across Scotland with Railway Mission, supported by ScotRail and CrossCountry, engaging in conversation and providing emotional support for passengers and staff where required. More than 12 awareness raising events were held in stations across the regions, including events from Reading to Nairn!
Samaritans Rail Team also supported a Network Rail Wellbeing webinar, organised several Learn to Listen workshops for CrossCountry and Network Rail teams and worked with local councils across the UK to help shape local campaigns to engage communities and raise awareness. Finally, the charity sends a big thank you to Liza O'Gorman from Network Rail who organised a football tournament, supported by Ashford Samaritans which raised £593.
To learn more about the Samaritans rail partnership, visit https://www.samaritans.org/how-we-can-help/workplace/rail-industry-suicide-prevention-programme/
To discuss opportunities for Samaritans outreach or other rail suicide prevention activities, please contact railcompanies@samaritans.org