Community Notice Board collaboration
25/09/23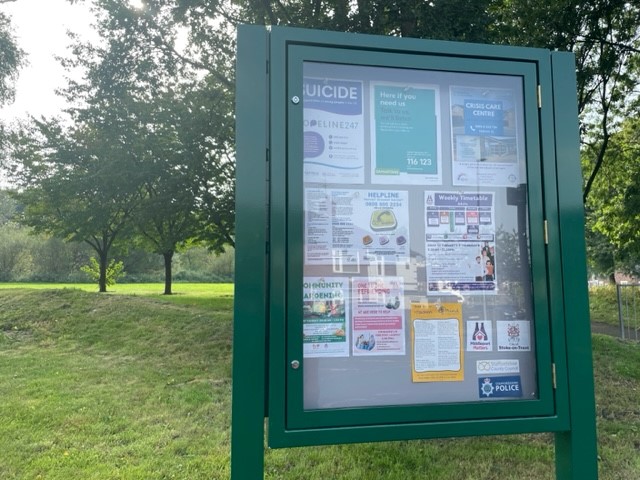 Long standing close working relationships with the Staffordshire and Stoke on Trent Priority Sites Group has led to the installation of a community notice board. Two priority locations were in close proximity covering both the rail and road network and whilst lots of community engagement had taken place in the area, and additional signage and signposting installed at both locations, the opportunity for more localised signposting was looked at.
A community notice board was suggested to the group on public land between the two locations by Richard Godwin Suicide Prevention Co-ordinator North West and Central Region and Dave Brown Samaritans Senior Regional Development Lead North West and Central Region. The best location for the installation was provided to them and pointed out on a joint site visit to both locations.
This Community Notice Board has mostly been funded, and will be maintained by, Middleport Matters Community Trust, additional part funding came from: Stoke-on-Trent City Council, Staffordshire County Council, Staffordshire Police, Jonathan Gullis MP, Synectics (local business), Port Vale Football Club, Steelite (local business).