Samaritans rail programme marks World Suicide Prevention Day with events across network
11/10/23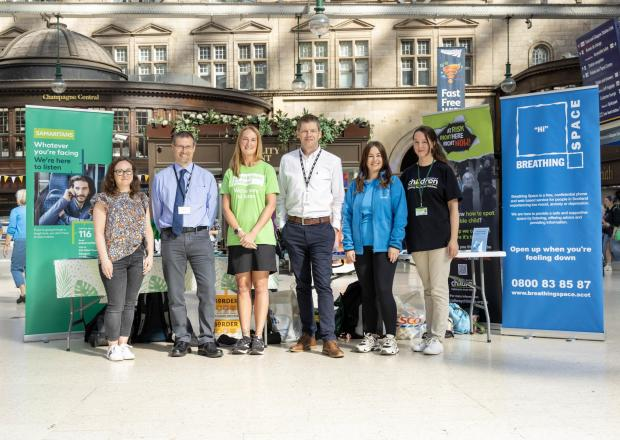 Samaritans were on hand to provide people with vital support to mark World Suicide Prevention Day (Sunday, September 10).
Regional Development Leads (RDLs) working within Samaritans rail programme hosted and took part in a number of events across the rail network for the awareness day, which is held every year to work towards creating a world in which fewer people die by suicide.
This year, Samaritans – a registered charity – encouraged people not to be afraid to talk about suicidal thoughts and feelings when they are worried about someone.
Volunteers and staff also aimed to highlight the importance of the language we use when we talk about suicide.
This work extended onto the rail network, with operators and partners getting involved in sharing these important messages with passengers and staff.
Scotland's RDL, Arlene Dickson, took part in events at Dundee and Edinburgh Waverly stations.
She was also interviewed by the Glasgow Times and ScotRail for a video the company produced for World Suicide Prevention Day.
Arlene also paid a visit to Musselburgh Golf Club who were presenting a wellbeing trophy and hosting a tournament.
Two days ahead of World Suicide Prevention Day, RDL for the North East and East Midlands, Anne-marie Alderson, was joined by Samaritans from North Herts and Stevenage branch at Hertfordshire County Council's Festival of Hope, which was held in Stevenage.
Lastly, Dave Brown, Senior RDL for North West and Central routes, gave a talk on rail suicide prevention at the Coventry and Warwickshire Suicide Prevention Conference. Remember, if you're worried about someone, it's okay to ask if they're having suicidal thoughts, it can give them permission to open up. Try asking them directly, it could save a life.  
If someone is having suicidal thoughts, it might be hard to get through to them – they might be distant or distracted and not respond right away. Just let them know there is always someone they can turn to such as a family or friends, or a 24/7 helpline like Samaritans. Anyone can contact Samaritans, free, 24/7, 365 days a year, on 116 123, email jo@samaritans.org or visit www.samaritans.org.