North Kent MIND at Gravesend Station for International Men's Day
02/12/22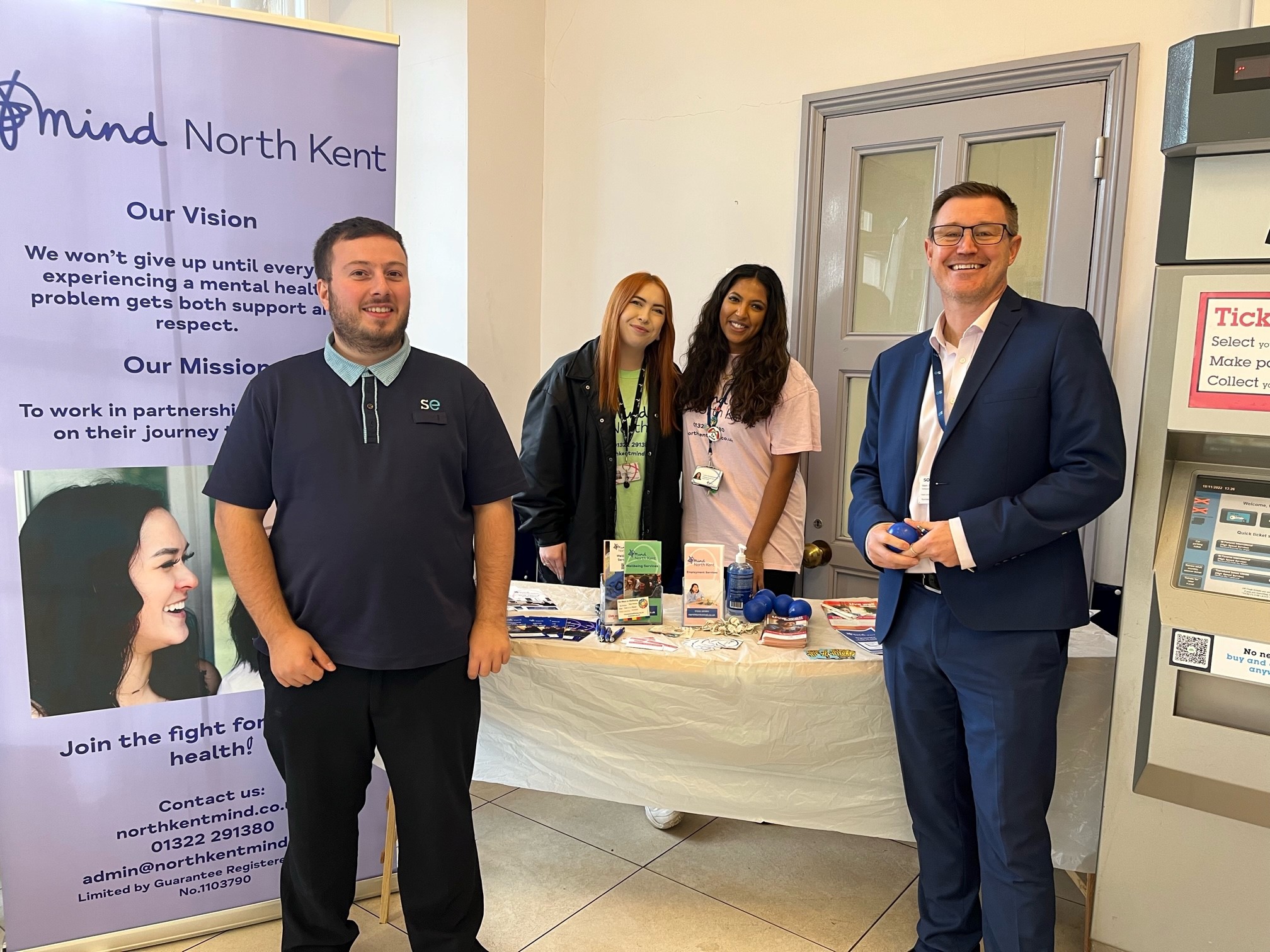 On Friday 18 November, the Southeastern Safeguarding Team and North Kent MIND joined forces and hosted a stall at Gravesend Station to raise awareness to colleagues and passengers as to what support is available in the community and aiming to reduce stigma around mental health by having honest conversations.
The challenges the country has faced in the last two years have been profoundly felt with the pandemic, and now continuing with the economic crisis we are facing – it is understandable that events have had a distressing effect on the country's mental health and support is needed now more than ever.
Society's expectations and traditional gender roles play a role in why men are less likely to discuss or seek help for their mental health problems. Men are often expected to be the 'breadwinners' and to be 'strong, dominant and in control' not leaving much room for them to be expected to open up about how they are coping with things, to reach out for help and open up. This event took place in respect of International Men's Day which was 19th November 2022, helping tackle the taboo which surrounds men discussing their mental health.
At Southeastern, we understand the importance of mental health and work every day to support our colleagues and passengers with whatever difficulties they may be experiencing. Our colleagues encounter thousands of passengers every day across the south east; some who are unfortunately experiencing the lowest time in their life and incredible work is carried out to help those who are in need. The Safeguarding Team are working towards continuing this behaviour across the network and improving the support and education for all.
Jessica Silver, Senior Practitioner at MIND said: "We had the opportunity able to engage with members of the community and discuss the hardships of the economy at the moment and how that has had a detrimental effect on mental health. It was really refreshing to be able to have such candid discussions and the importance of breaking the stigma around mental health."
MIND also reported that with working in the community allowed those in need to make the referrals to the different services available for either themselves or those in need. For more information on where to get help near you, mental health questions, treatment options and advocacy services, contact MIND on: 0300 123 3393.